Special Offer – King James DVD read by Alexander Scourby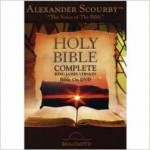 **Save 7.00–With any purchase of one or more Power Bible CD's get this DVD for only 7.99**
Enter coupon code (83OKRMLHPFJG) during checkout at the store to receive the discount.
The King James Version Video Bible, narrated by Alexander Scourby, has many wonderful features. This edition includes the complete Old and New Testament.
Hear and see God's word in a brand new way with this King James Version Bible on DVD narrated by Alexander Scourby . With over 70 hours of powerful word-for-word narration and synchronized on-screen text, this Complete KJV Bible on DVD brings the scripture to life with Alexander Scourby's expressive and inspiring voice.
Alexander Scourby was an accomplished Broadway Shakespearean actor, radio personality, movie actor and narrator of many television documentaries. He was, undoubtedly, best known for his eloquent voice and he considered this narration of the Bible to be the most important work of his life. This Complete KJV Bible on DVD demonstrates why Alexander
Scourby is considered "The Voice of the Bible."
• Over 70 Hours of Dolby Digital® Stereo Audio on one DVD
• Complete narration of the Old and New Testament KJV
• Synchronized graphics & text showing every verse
• Widescreen (16:9) and Full Frame (4:3) display
• Interactive Menus that allow direct access to any book or chapter
• Optional playback modes including:
—Play a single chapter
—Play a single book
—Play a weekly portion of the Bible with the 52 Week Bible Guide
• Continuous play of the entire Holy Bible
• No Region Coding
• NTSC TV format
Bonus Material Includes
• Holy Land Photo Tour—Enjoy scenes of the Holy Land